RingCon 2002 was held in Bonn, Germany November 22-24, 2002. Craig Parker was one of the guests and on this page are links, photos and an interview from the con. I was not able to attend due to my work. Being in Florida, November is traditionally the start of our busy season and working at a Newspaper, we are the busiest. I really wish I could have been there, it seems a good time was had by all.

First, this is an interview that Elisabeth (Silver Queen) did with Craig. He was gracious enough to take time out of his busy day to do this. Some of the questions were from me, and I thank both Elisabeth and Craig for doing this and allowing it to go on my site.


EM: I told you about Janet Sella. You met her in Queenstown.
CRAIG: Queenstown, yeah, she was down there.
EM: You never knew about her webpage?
CRAIG: No, I have never been to it, but I must go to it right at home. Do you have the address?
EM: No, I am sorry.
CRAIG: I can do a search.
EM: She is really sorry that she can't be here.
CRAIG: Yeah, it's a long way to travel, but she was lovely. Had a great time. Was her first snow down at Queenstown. She has never been in snow before.
EM: She told me that.
CRAIG: Great!
EM: Good. There are some questions she wants me to ask you.
CRAIG: Sure!
EM: You're doing the Rocky Horror Show?
CRAIG: Yes.
EM: How do you like it?
CRAIG: It's fantastic. Do you know the movie?
EM: Yes, a bit.
CRAIG: I loved it as a teenager. Thought it was fantastic, knew every word. Kevin Smith was going to play...He worked on "Xena" and "Hercules". Wonderful man who died early this year. He was going to play Frank, so it is a special show for all of us. Also for Joel Tobeck who has take over the role. Kevin was a very good friend of his. So the show is like a tribute to Kevin. And it's also really good fun.
EM: And what is your part?
CRAIG: The Narrator!
EM: What do you do?
CRAIG: This version is sort of quite different from the film version. The narrator is...he basically narrates.
EM: Do you sing and dance as well?
CRAIG: Yeah, sing and dance, badly. (laughs)
EM: Is this your first singing part?
CRAIG: Itís my first musical. A few years ago I did something called "Wind in the Willows". It had singing in it. I don't like singing. I am not very good at it. I can sing with lots of other people-
EM: Mercy Peak, I have not seen it myself, unfortunately, but I heard from Janet that there was something about a musical in one series?
CRAIG: Oh yeah, but I was not singing. One of the characters put on a musical, but I was not involved with it.
EM: How many series were there?
CRAIG: We just finished shooting the second series. Rocky Horror finishes in mid February, and then we start "Mercy Peak" straight again.
EM: And it's only shown in New Zealand?
CRAIG: It's showing in Canada right at the moment. What happens is you sell a single package out international to the television market. By the end of this series we got a lot of pre-orders. So I think it will be screening in England.
EM: Will it come on DVD?
CRAIG: Probably not. TV series don't, do they?
EM: Sometimes!
CRAIG: Yes, sometimes! The company who make it do sell a lot to Europe. I will probably end up in Europe with someone else's voice coming out of my mouth.
EM: Yeah, that's true. Now about "Lord of the Rings": Have you seen the second film already?
CRAIG: I have seen a little bit of it. The day I left home it was screening down in Wellington which I was invited to, but I could not go obviously. I will see it when I get back home. But word is that it is remarkable, more exciting then the first. It will be better than the first.
EM: And hopefully it will show more of you.
CRAIG: Hopefully, you know, we shall see. I believe there will be more.
EM: In the first movie you have also spoken some Elvish...
CRAIG: Yeah, yeah. You want me to remember them, don't you? I do know, I can remember "Mae govannen", which is "welcome".
EM: Did you say it?
CRAIG: Yeah! "Mae govannen, Legolas Thranduilion", which is "You are welcome, Legolas, son of Thranduil". "A Aragorn in Dunadain istannen le ammen." "Istannen le ammen", which is "You are known to us". It extended my Elvish. I did learn some more, but that was a few years ago. I have forgotten it.
EM: Will it be on the Extended DVD?
CRAIG: I think so. I donít know. We shot the scenes in Elvish, Elven, Elvish and did it in English as well. It's a choice. The Arwen scene is in Elvish and they did it with subtitles. I am not sure but I've got the Extended DVD. They sent me on the day I left home so I have not actually seen it. It's wrapped up, waiting for me.
EM: About the character Haldir. Have you read the books before the movie?
CRAIG: I started when I was quite young, never made it through. When Peter first announced that he was going to make those films I got back and read them. Got through the whole lot.
EM: Can you compare the character Haldir in the movie and the book. Is there a difference concerning the character?
CRAIG: There is always a difference. A film can never be like a book.
EM: The characters as well?
CRAIG: Yes, yes, I think so. When I see a film of a book that I loved to read the characters are different because your relationship to the book is so personal. And you create these people how you want them to be and when you see the film it's someone else's interpretation. Peter, Fran and Phillip have managed to get as good a compromise of that. Compromise is maybe not the right word, trying to get the essence of the book.
EM: Would you have imagined Haldir in the book as you were told to play him? Was there a difference?
CRAIG: Probably, a slight difference. It's the german word "gestaucht". The character is "gestaucht" - what the actor wants, what the director wants, what the story needs from the book, the creation point. And that's part of the joy of it, its not one person to vision it, it's more.
EM: When I read the book I imagined Haldir a bit gentler maybe. Because in the movie he appeared to be arrogant.
CRAIG: Yes, yes.
EM: Were you told to be arrogant?
CRAIG: Yes, I think it was a purpose to emphasise that they were living in an alien world, not so much for Legolas, but for the others, for Gimli and for the hobbits. They are frightened. Like you are child and you visit your elderly grandparents.
EM: You said that you like reading a bit more than watching TV.
CRAIG: Yes, I read a lot. I have several books bedside my bed at all times.
EM: Thank you very much!
CRAIG: Thank you!
From the Web master: Craig asked me, via Elisabeth Muller, to post a message to his fans:
"I have piles of letters to answer at home, but I am terrible in answering them, but I promise I will do it when I come home."
If you would like to send Craig a fan mail letter, you can send one to this address:
Craig Parker
c/o Karen Kay Management
PO Box 446
Auckland 1
NEW ZEALAND
There is no gaurantee he will respond, though he does have good intentions to try, but there is a good chance he will read it. If you want, you can try sending an international reply coupon. Contact your post to find out how to get one.
I (Janet Sella aka jmsstyx and jmsstyxnyes) want to extend a personal thank you again to Craig. And to Elisabeth for doing this. Oh and I've heard Craig sings and dances wonderfully from someone who saw Rocky Horror. :) I only wish I could have made it back to New Zealand to see Rocky Horror, but due to my job and season, I can't get off in Florida's winter.
These photos were taken by Elisabeth and should not be used without her permission. Email her at:
stars24601@hotmail.com
she'd love to hear from you.



















The interview on this page and any photos are property of Jmsstyx, Elisabeth (Silver Queen) and Craig Parker and should not be used on other sites without permission.
Here are some photos from Ian Smith. I want to thank him for allowing me to post them here. Please do not use on other web sites without Ian Smith's permission. Click the banner link to his site below to view even more great photos from other con attendees and to read his reports of the Con.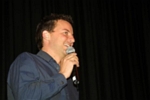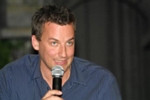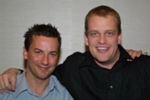 These photos were captured off the Ring*Con 2002 DVD. This DVD can be purchased at the Ring*Con official web site. All captures made then cleaned up in Ulead's PhotoImpact 8 by Jmsstyxnyes.






LINKS:
RING*CON GERMANY, English page available.

Bear's Ring*Con 2002 photo gallery at her site Craig-Parker.net