RING*CON 2003 BONN, GERMANY NOVEMBER 14-16, 2003
DISCLAIMER: ALL IMAGES ON THIS SITE ARE COPYRIGHTED BY THEIR RESPECTIVE OWNERS AND MAY NOT BE REPRODUCED OR SOLD ON EBAY OR ANY OTHER FORM OF SALES AT ALL. They may be downloaded for personal use only. Please respect the wishes of the photo owners as it is through their generosity that these photos are here for the fans to see.

Guests at the convention were: Craig Parker, Bruce Hopkins, Mark Ferguson, John Rhys-Davies, Jorn Benzon, John Leigh, Nathaniel Lees, Lawrence Makoare and Sala Baker.


All photos courtesy and property of Elisabeth Mueller, not for use on other web sites.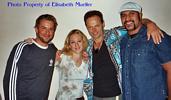 Craig, Elisabeth Mueller, Bruce Hopkins, Sala Baker.
A small report from Elisabeth Mueller:

"Last year something extraordinary took place for the first time ever- the Ring Con 2002! And for me personally (thanks to my dear friend Janet- the webmaster) it was possible for me to use the opportunity to interview Mr.Craig Parker and in doing so I had the chance to finally get a greater insight in his personality and to understand Haldir's character a little better. It was a wonderful time and I want to thank Craig again now after one year that has gone by. Ring Con 2002 was the greatest thing to happen in Germany and I also want to thank Craig for his kind words and regards about this site."


The sites listed below have some wonderful photos of Craig and Bruce Hopkins at the Ring*Con convention held in Bonn, Germany November 14 - 16, 2003.
If you have photos from the con and would like to share them here,You can e-mail me at
:jmsstyxnyes@jmsstyxnyes.com
and I will provide proper credit and a link back to your site if have one.