ISTROCON 2003, SLOVAKIA
DISCLAIMER: ALL IMAGES ON THIS SITE ARE COPYRIGHTED BY THEIR RESPECTIVE OWNERS AND MAY NOT BE REPRODUCED OR SOLD ON EBAY OR ANY OTHER FORM OF SALES AT ALL. They may be downloaded for personal use only. Please respect the wishes of the photo owners as it is through their generosity that these photos are here for the fans to see.
Please don't link directly to any photo here. Instead please use the html extension. Photos courtesy of Viktória Soós, do not use on other web sites without permission.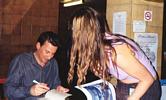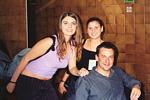 The sites listed below have some wonderful photos of Craig at the Istrocon convention held in Slovakia Sept. 12 - 14, 2003. Most are not in English.
If you have photos from that con and would like to share them here,You can e-mail me at
:jmsstyxnyes@jmsstyxnyes.com
and I will provide proper credit and a link back to your site if have one.